Chocolate really does make everything better – even chili. I realized this quite accidentally while on a road trip to Phoenix last month with my friend Libby. Since then, I've made this chili twice and, I am ashamed to say it, but I never shared the recipe. Terrible, I know… but the truth is this chili has gotten me through a very busy couple of months. My mom called me today to report she inherited a bag of quinoa from the neighbors (who doesn't like quinoa?) and couldn't find this recipe on the blog's new recipe page. Well, now you know why. All I can say is good things come to those who wait… Nagging a little helps too, though.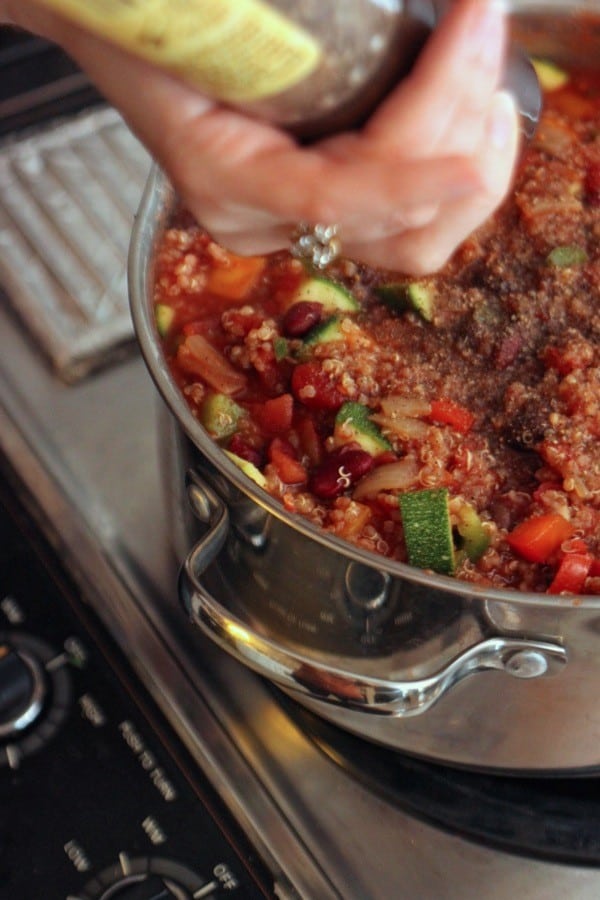 If you've never put chocolate in your chili, I dare you to try. If your tastebuds are anything like mine -small and pink- they'll never want chili any other way.
Adapted from two peas & their pod
Ingredients
1/2 cup quinoa, rinsed

1 cup water
1 small onion, chopped
1/2 butternut squash, chopped into 1/2-inch chunks (about 3 cups)
2 bell peppers, you pick the colors

1 large zucchini, chopped

1 (15 ounce) can black beans, drained and rinsed

1 (15 ounce) can red kidney beans, drained and rinsed
3 (15 ounce) cans diced tomatoes

1 (15 ounce) can tomato sauce
3-4 cloves garlic, minced
1 jalapeno pepper, diced
2-3 tablespoons chili powder, to taste
1-2 tablespoons unsweetened cocoa powder or 3-4 small squares unsweetened bakers chocolate, to taste
1 1/2 tablespoons ground cumin

1 tablespoon olive oil
Salt and black pepper, to taste
Topping ideas: avocado slices, cheese, Greek yogurt (instead of sour cream) and tortilla chips
Directions
In a medium sauce pan, combine the quinoa and water. Cook over medium heat until water is absorbed (15-20 minutes) and set aside. (If you have a rice cooker, use that instead.) In a large pot, heat the olive oil over medium heat. Add the butternut squash, cooking for 5 minutes. Next, add the onion and bell pepper and cook another 5 minutes. Stir in garlic, jalapeño and zucchini. Cook 5 more minutes (~15 minutes total) until vegetables are tender. Add the black beans, kidney beans, tomatoes, and tomato sauce. Stir in the cooked quinoa. Season with chili powder, cumin, cocoa powder/bakers chocolate, salt, and black pepper. Heat through and reduce to a simmer for about 30 minutes, stirring occasionally. Freeze leftovers for a quick, healthy & delicious meal on a busy night.