Not having to travel during the holidays is nice (like really nice) especially when you've got two kids two and under. With the new baby, we had a good excuse to hunker down and stay home this year and let everyone come to us. Between Thanksgiving and New Year's, we had thirteen cousins, aunts, uncles, nieces, nephews, grandparents and friends visit. Having a house full of friends and family can be both energizing and exhausting, but there's something about the hustle and bustle and the extra energy in the house that makes my heart happy.
Making guests feel at home has always been fun for me, even back in grad school when all I had to offer was a freshly made futon mattress and plush towels from TJ Maxx. Taking a few minutes to make your space more welcoming before houseguests arrive will not only show them how much you appreciate their visit but also make them want to come back!
Here are some of my favorite touches to make guests feel more at home when they visit:
1. Put out freshly rolled towels.
For whatever reason, I find a rolled bath towel so much more welcoming than one tossed on the bed, and it takes less than 30 seconds. It's the first thing your guests will notice when they walk in the room!
2. Place water (& a treat) by the bed.
This may sound weird but the idea of waking up thirsty in the middle of the night and not having water close by gives me anxiety. I literally cannot fall asleep without a glass of water on the bedside table! Anyone else? I know I can't be the only one out there with FOBT (fear of being thirsty) so I make sure all of my guests have a nice big glass (ok, pitcher) of water by the bed. These cool carafes (affiliate link!) from CB2 always impress our guests, as does a fancy bar of chocolate.
3. Stock the bathroom with toiletries.
It's nice to have the basics in case your guests forget something at home: shampoo, conditioner, body lotion, soap, and toothpaste. You can purchase travel-size toiletries or just do what I do and snag some on your next hotel stay! It's also nice to keep a pack of inexpensive toothbrushes under the sink and fill canisters like these (affiliate link!) with cotton balls and cotton swabs.
4. Tidy up shared spaces.
I know not everyone has separate accommodations for guests. I didn't back when I was in school. Whether it's a shared bedroom or bathroom, putting away everyday clutter will make guests feel less like they're infringing on your personal space. Take a few minutes to stash away toys and personal belongings. If your guests are staying more than a night or two, it's also really nice to clear out a bathroom and dresser drawer for them to put their belongings.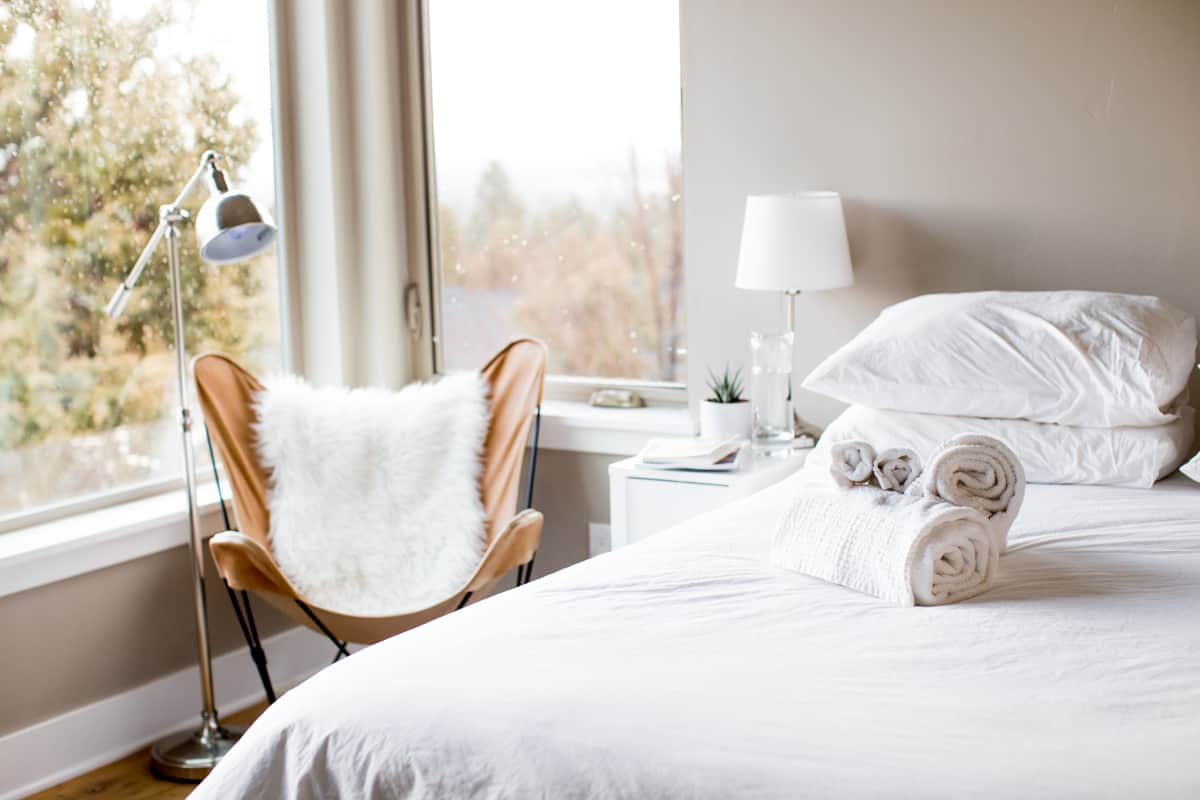 5. Leave local magazines on the nightstand.
If your guests are out-of-towners, regional publications, like magazines or day trip guides, are not only a nice introduction to where you live but often contain fun outings and activities for them to do while visiting.
What little things do you do to make sure your guests feel welcome?