Maybe it's the unseasonably warm weather, a pregnancy-related pumpkin aversion or simply a case of pumpkin burnout, but I haven't really felt the insatiable need for all things pumpkin spice the past couple of weeks.
How sad is that?
Okay, it's really not quite as tragic as I make it sound because this spiced chai breakfast quinoa is totally filling any fall flavor void in my life at the moment.
Fellow chai-lovers, you're going to want to get in on this. Just make sure you bring your appetite because this is one filling breakfast bowl.
Speaking of appetite, I never thought I'd say this but eating for two is a tough job. I kid, I kid. I'm not technically eating for two (at least not all of the time), but at this point there's no longer space in this belly of mine for big, satisfying meals, which means I'm hungry and on the hunt for food every couple of hours or so.
One thing that's consistently made a difference in keeping me satisfied, both before and during pregnancy, is getting enough protein in the morning, something that many irresistible (I'm looking at you, cinnamon buns and almond croissants) or ridiculously convenient (ahem, granola bars) breakfast foods typically lack.
I guess it's not surprising that Americans average just 13 grams of protein at breakfast, but did you know we should be shooting for about 25-30 grams at each meal? The timing and type of protein we eat matters more than you may realize. We tend to eat most of our protein in the evening though, leaving our mornings low in the nutrient most likely to keep us full. Getting enough protein in the morning means you'll feel fuller, longer and are less likely to be grazing for mid-morning snacks or overdo it at lunch.
Alone this bowl of chai goodness packs an impressive 22 grams of protein, but pair it with an 8-ounce glass of milk and you'll get in a whopping 30 grams (!!!) before you even walk out the door. Not only does milk offer 8 grams of high-quality protein per cup, it also has other essential nutrients like calcium and vitamin D. The star grain in this dish, quinoa, is also a good source of protein plus filling fiber. If you want to see more on how milk's protein can help at breakfast, check out this cool infographic.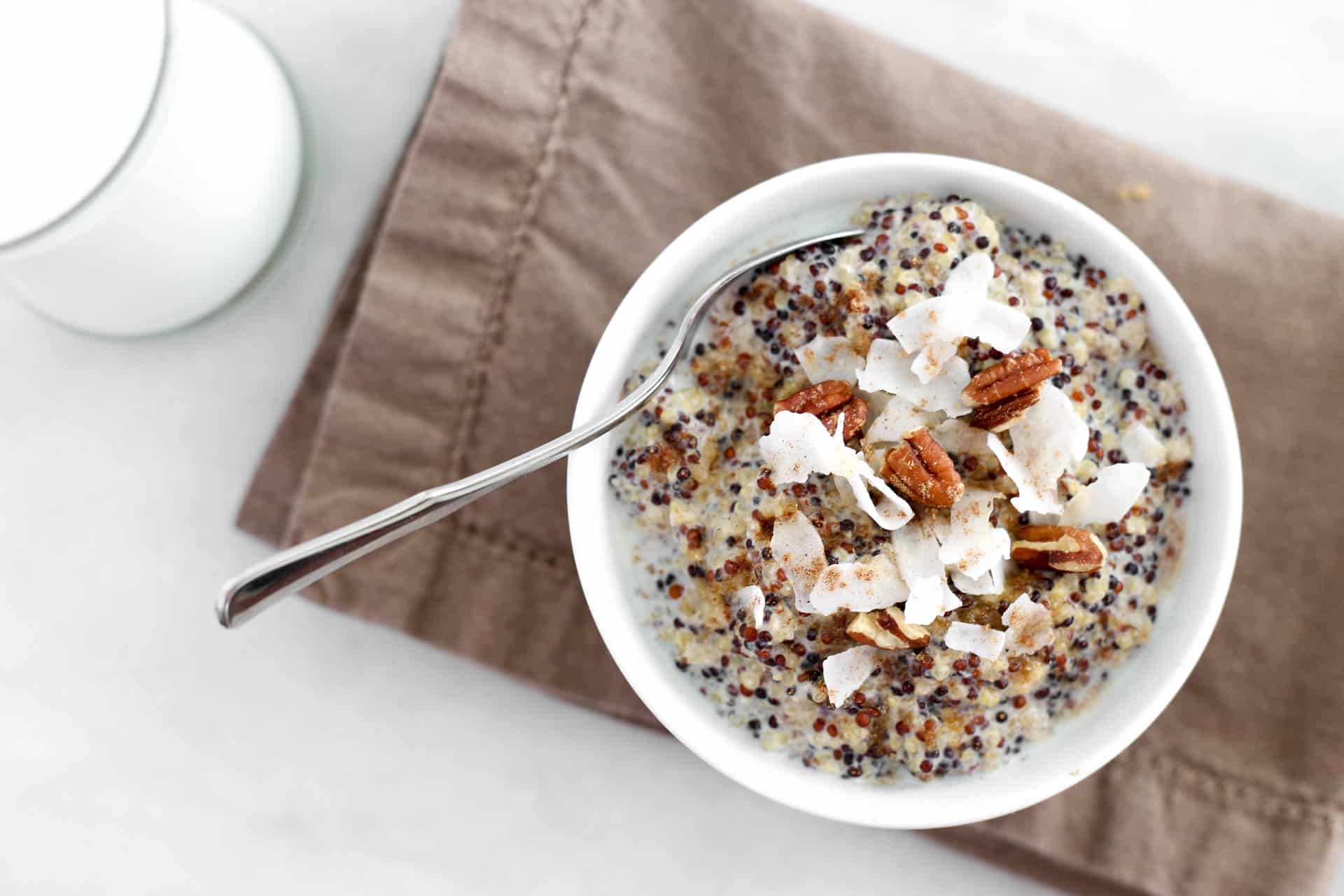 Even if pumpkin spice is everything nice in your life right now, make this spiced chai breakfast quinoa tomorrow morning and see if you don't fall in love, too.
Serves: 2  | Serving Size: about 1 3/4 cups

INGREDIENTS      
1 cup quinoa
2 cups 1% milk
1 large egg white
1 1/2 tablespoons brown sugar, unpacked
1/4 teaspoon pure vanilla extract
1/4 teaspoon ground cardamom
1/4 teaspoon ground cinnamon
1/4 teaspoon ground ginger
1/4 teaspoon nutmeg
2 dashes ground cloves
Unsweetened coconut flakes and/or nuts for topping (optional)

DIRECTIONS

Bring milk to a full simmer in a small saucepan. Add quinoa, return to a simmer and reduce heat to the lowest setting. Cover, leaving a tiny crack for steam to escape, and simmer until about two-thirds of the milk has been absorbed, about 15 minutes.

Remove from heat and stir in egg white, brown sugar, vanilla and spices. Return pan to stove, covering again with a tiny crack for steam to escape, and continue to cook on low until almost all the milk has been absorbed, about 5 minutes.

If desired, serve with additional milk and garnish with coconut flakes, nuts and/or additional brown sugar.
P.S. For more delicious breakfast ideas with protein, check out this Creamy Acai Smoothie, Nutty Blueberry Quinoa Oatmeal and Savory Oatmeal.
A special thanks to Milk Life for sponsoring this delicious recipe!