I don't remember what Fall was like before the Pumpkin Spice Latte. Do you?

I mean seriously. What did our parents have to look forward to on those dark, chilly Fall mornings before work–a piping hot mug of apple cider?
With no caffeine?
Seriously?
That sounds miserable.
Something else that's miserable is the line out the door of my downtown Starbucks every Friday morning. It's like everyone in this city celebrates making it through the work week with Pumpkin Spice Lattes. A highly caffeinated happy hour, if you will.
I should write Starbucks a letter.
Dear Starbucks, please allow your Gold Card customers to place #PSL orders in advance from our phones so we can avoid that whole waiting-in-line-for-20-minutes-before-work-when-we're-already-running-late fiasco. KTHANKSBYE.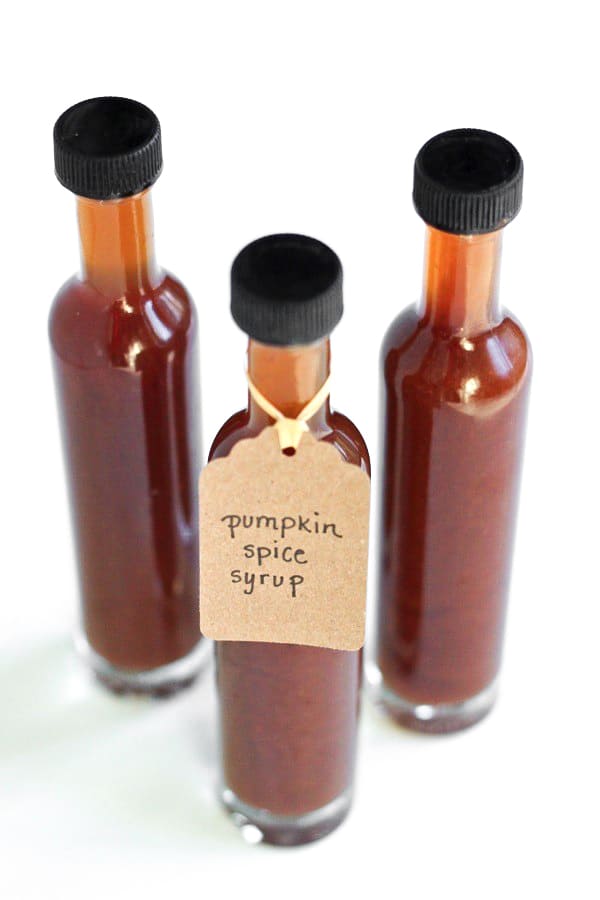 Or don't, and I'll just continue to make my own Pumpkin Spice Lattes at home every Friday.
Because I can.
And now, so can all nutritionella readers. For the rest of time.
Oh and by they way. My #PSLs taste just like yours. Only better. Because there's real freaking pumpkin in my syrup.
BOOM.
For those of you at home, if you don't own an espresso machine, fear not. Just get yourself an inexpensive milk frother. It will seriously change your life.
Maybe not as much as a real espresso machine would, but close. The #PSL syrup will make up for the difference, I promise.
INGREDIENTS
3/4 cups water
3/4 cup brown sugar, unpacked
1/4 cup pumpkin puree
1 teaspoon cinnamon
1/2 teaspoon nutmeg
3 dashes cloves
DIRECTIONS
Combine water and brown sugar in a small saucepan over medium heat. Stir until sugar has dissolved and reduce heat to low. Add spices and pumpkin puree, stirring until well combined. Simmer for 5 minutes and  then strain the mixture through a fine mesh strainer. Store in an air tight container in the refrigerator for up to 2 weeks–just be sure to give the syrup a good shake as it will separate while sitting in the fridge.
To make your own Pumpkin Spice Lattes, add 2-3 tablespoons of syrup to freshly brewed espresso and stir well. Pour steamed or frothed milk into the mug and sprinkle with a dash of cinnamon or pumpkin pie spice.
Pumpkin Spice Lattes: Have you been put under the #PSL spell too? Do tell. I need to know I'm not alone.