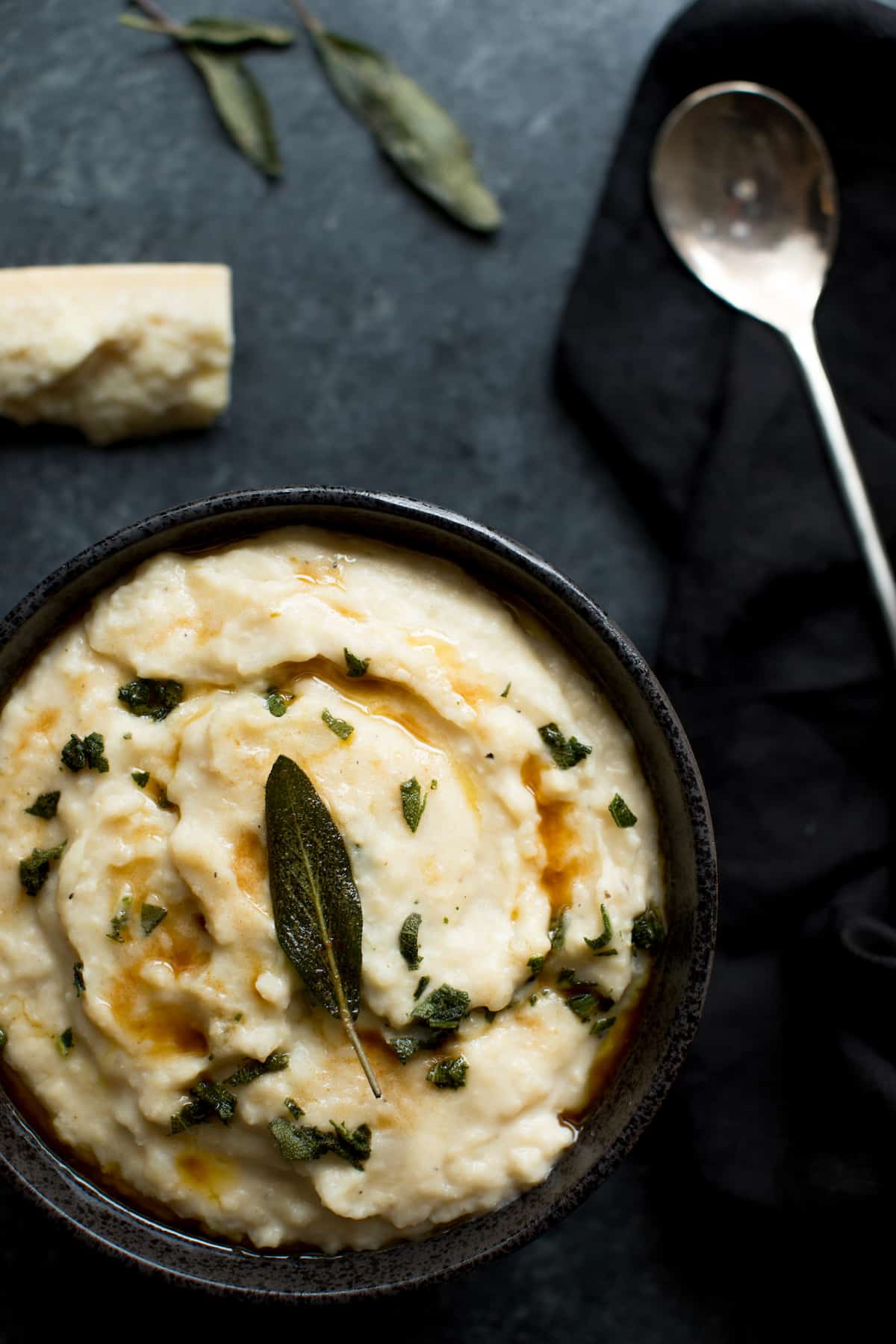 There's no doubt motherhood has its challenges. Between the non-stop nursing, debilitating sleep deprivation and an uptick in toddler tantrums, there are times the hubs and I feel like we're barely hanging on these days. As easy as it is to get wrapped up in the day-to-day challenges of being a busy mama of two, this Thanksgiving I'm reminded of just how much we have to be thankful for. We have the sweetest, brand new baby girl to snuggle, a healthy, inquisitive, adventurous almost-2-year-old and a home filled with family, friends, laughter, and love. I never imagined my heart could feel this full.
Speaking of full, when it comes to filling our bellies on Thanksgiving, mashed taters have my heart — and about 50 percent of the real estate on my plate. This cheesy, Slow Cooker Potato Cauliflower Mash especially so.
A combo of good ol' russet potatoes and cruciferous cauli, this velvety, cheesy potato and cauliflower mash is everything your Thanksgiving menu needs this year. Sure the fried sage and brown butter make it look all fancy, but it might just be the simplest side dish of all time.
After just a few minutes of prep, potatoes and cauliflower are bathed in milk broth, seasoned with garlic, salt, and pepper, and simmered for four(ish) hours in your slow cooker. Not only does this free up a burner on your stove, but there's also no lugging a super heavy pot of hot water across the kitchen, no singeing your eyebrows with steam at the sink, and no dirtying a perfectly clean colander. Cooked, mashed and served all in the slow cooker, this dish is the definition of "one-pot wonder." And for those of you who have difficulty with timing as I do, this mash is happy being kept warm in the cooker while the rest of your meal comes together.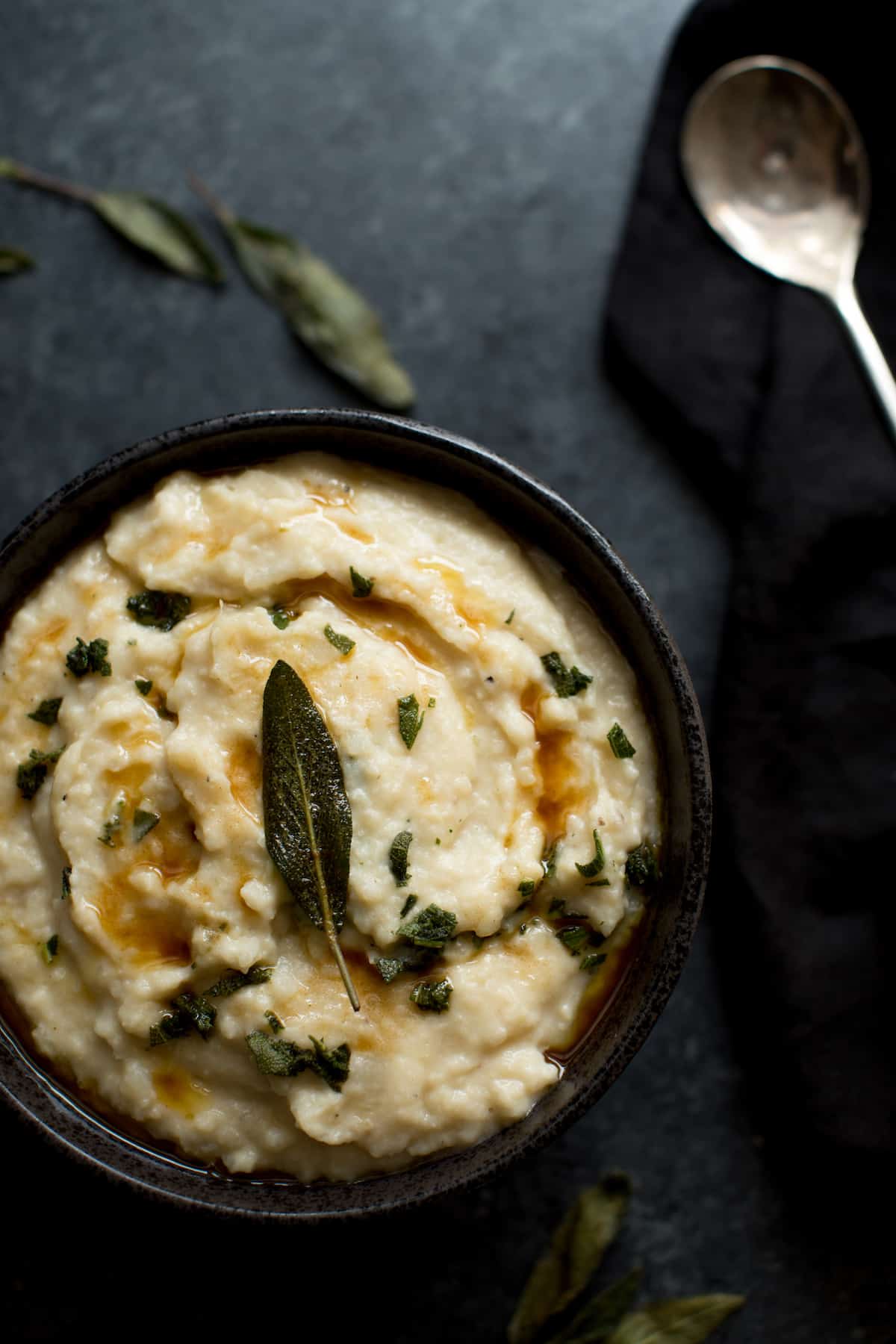 What's milk broth, you're wondering? Sounds impressive, doesn't it! All it is though is a smooth, flavor-filled broth made of chicken stock and wholesome milk. When simmered low and slow in milk broth, the taters and cauliflower absorb all of the flavor and creamy goodness — which, let me tell you, is a considerable step up from water-logged boiled potatoes. The consistency, texture, and flavor of milk offer a real culinary advantage here, resulting in a creamier, richer mash than if made with a non-dairy milk alternative. Plus, I feel good knowing milk also provides important nutrients my family needs.
Once the potatoes and cauliflower have sufficiently softened and absorbed that milk broth goodness, they're mashed to perfection and finished with a combination of cheddar, mascarpone and parmesan cheeses, more creamy, nutrient-rich milk and topped with brown butter and fried sage.
Given the trio of cheeses incorporated and the generous drizzle of brown butter on top, it'd be hard for me to lie and say this is low-cal mash. Of course, it could easily be lightened up by cutting back on the cheese and backing off on the brown butter, but I'm nursing a newborn, and this is a Thanksgiving dish. I'm not cutting corners — at least not Thanksgiving week. Instead, I am going to be thankful for all we have, including this bowl of creamy carbs and calories.
Print
Slow Cooker Potato and Cauliflower Mash
---
Author:

Prep Time:

15 min

Cook Time:

4 hours

Total Time:

4 hours 15 min

Yield:

8 cups

1

x
Description
Cooked, mashed and served all in the slow cooker, this velvety, cheesy potato cauliflower mash makes a delicious and easy side dish and is a perfect for any holiday dinner.
---
3

pounds (about

3

large) russet potatoes, peeled and chopped into

1

-inch chunks

1 1/2

pounds cauliflower florets (from

1

large head), cut into 6-8 wedges

1 1/2 cups

milk, divided

1 cup

chicken broth

4

cloves garlic, minced or pressed

1 teaspoon

kosher salt

1/2 teaspoon

freshly ground black pepper

1/2 cup

grated parmesan cheese

1/2 cup

mascarpone cheese

1 cup

shredded sharp cheddar cheese

4 tablespoons

butter

10

large sage leaves
---
Instructions
Layer potatoes in the bottom of the slow cooker. Place cauliflower on top and add garlic, 1 cup milk, chicken broth, salt and pepper and toss to coat.
Cover and cook until fork tender, about 4-5 hours on high or 6-7 hours on low, gently mixing once halfway through.
Mash to using a potato masher or electric mixer. Stir in the cheeses, cover, and cook another 5-10 minutes or until cheese has melted.
While the cheese melts, melt butter in a small skillet over medium heat. Swirling the pan occasionally, watch for the color to change from yellow to golden-tan to a warm brown. Once brown, add the sage and cook for 30 seconds, stirring once or twice. Remove skillet from heat. Transfer sage to a paper towel-lined plate to remove excess butter and then coarsely chop.
Just   before   serving,   heat   remaining   1⁄2   cup   milk   in   the   microwave   for   45-60   seconds   and   stir   into potatoes   until   desired   consistency   is   reached,   adding   more   if   necessary.   Stir   in   browned   butter and   sage   and   season   with   additional   salt   and   coarsely   ground   black   pepper,   if   desired.
Category:

Side

Method:

Slow Cooker

Cuisine:

American
Nutrition
Serving Size:

2/3 cup

Calories:

300

Sugar:

4 g

Sodium:

253 mg

Fat:

13 g

Saturated Fat:

7 g

Unsaturated Fat:

6 g

Trans Fat:

0 g

Carbohydrates:

40 g

Fiber:

4 g

Protein:

10 g

Cholesterol:

38 mg
Keywords: slow cooker mashed potato and cauliflower
Special thanks to the National Milk Life Campaign for sponsoring this delicious recipe. For more nutritious recipes, head on over to MilkLife.com or connect with them on social via Facebook, Twitter, Pinterest, and Instagram.