I thought a new recipe might put a bounce in your step this morning. It sure put one in mine on Saturday!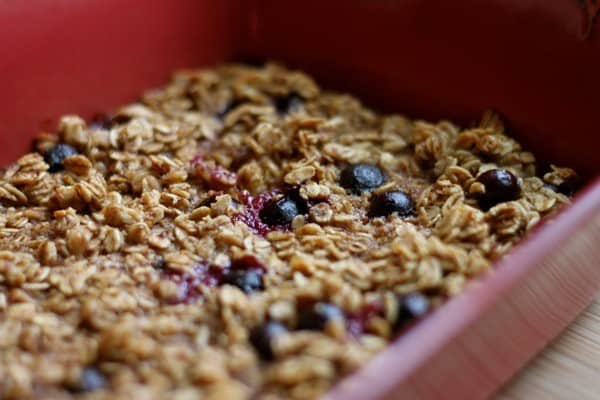 These sweet & tart Baked Maple Blueberry Oats are nothing like your usual oatmeal, but you probably won't mind that.
This breakfast dish is simple, healthy and delicious but the best part is, it takes only 10 minutes of work.
Just mix the wet and dry ingredients, fold in the blueberries and let the oven do the rest!
This baked blueberry oatmeal makes a great brunch dish since it's so quick to prepare and can feed a group of hungry friends and damily. I baked mine in an 11×7″ baking pan but you can easily double the recipe and use a 13×9″ pan to feed more!
On second thought, just make some for yourself and enjoy the leftovers for breakfast all week long.
Just don't forget to drizzle a little extra warm, maple syrup on top of each slice before digging in. It completes the experience.
Ingredients
1 ½ cups old fashioned oats
1 cup low-fat milk
1 cup blueberries, fresh or frozen
¼ cup low-fat yogurt
2 tablespoons honey
2 tablespoons brown sugar
1 tablespoon butter
1 teaspoon ground cinnamon
1 teaspoon vanilla extract
1 egg, beaten
½ teaspoon sea salt
maple syrup (to lightly drizzle over each slice before serving)
Optional: ¼ cup ground flaxseed
Directions
Preheat oven 350F. Lightly grease a 11″ x 7″ baking pan. Combine oats, brown sugar, flax seed, cinnamon, and salt in medium sized bowl. In a separate bowl, whisk together milk, yogurt, honey, vanilla extract, melted butter and egg. Add to oat mixture and stir until well combined. Gently fold in in blueberries and bake for 30 minutes. 

Lightly drizzle each slice with warm maple syrup before serving.