I've always struggled to find the time for both coffee and breakfast in the morning. When I do, one of my go-tos is homemade granola, vanilla yogurt and fresh fruit because, well, it's quick, convenient, and yummy.
Now, I'm not totally dissing the sweet stuff, but lately I've realized this combo actually contains a fair amount of sugar, especially when a vanilla latte is added to the equation.
And let's be honest, a vanilla latte is very rarely not in the equation these days. It's probably a good thing that my espresso machine didn't come with a triple shot option.
To cut back on the amount of sugar and increase the protein I take in every morning, I recently added eggs to my weekday breakfast rotation.
This, my friends, is my newest obsession: the poached egg + crispy prosciutto avocado toast.
Fancy, right?
Something this beautiful and delicious really shouldn't be this simple, but it is. Poached eggs are actually quick and easy to cook but pre-crisping several slices of prosciutto ahead of time literally makes this a 7-minute meal, which is kind of perfect if you've got somewhere to be in the morning. Working girls, students, moms & dads: I'm talking to you.
Nutrition-wise, this breakfast is well-balanced. It'll satisfy both your tastebuds and your growling stomach. Eggs provide high-quality protein––actually the highest quality protein found in any food––along with vitamins, minerals, and antioxidants which play a role in things like weight management, muscle strength, brain function and eye health.
In addition to the protein, avocado offers a dose of healthy fats and the whole grain bread provides a serving of complex carbohydrates, which also happens to be perfect for soaking up that beautiful, runny yolk. The crispy prosciutto gives this healthy breakfast sandwich the perfect amount of crunch and salty goodness that will make you want to add this to your regular breakfast rotation.
Oh and did I mention this breakfast has not one gram of added sugar?
None. Zero. Zilch.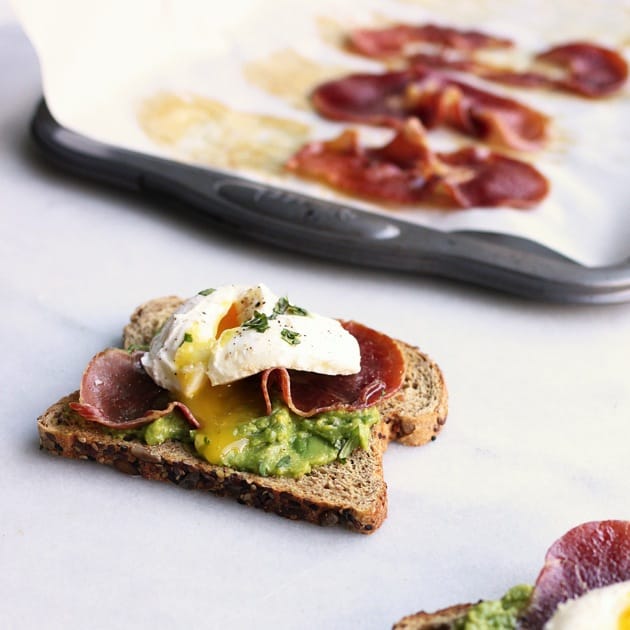 I don't think I'll ever be able to fully give up my morning lattes but I'll admit, I'm totally in favor of cutting back on added sugars at breakfast as long as this is involved before I head off to work.
Note: Pre-crisp several slices of prosciutto to save time in the morning. To do this, preheat oven to 350F and line a baking sheet with parchment paper. In a single layer, lay prosciutto slices onto the baking sheet and bake for 12-15 minutes until brown and crispy on the edges, keeping in mind prosciutto will crisp further as it cools. Transfer to a paper towel and, once cool, wrap in foil and store in the refrigerator until ready to use.
INGREDIENTS
1 large egg
1 slice crispy prosciutto
1 slice of sugar-free, 100% whole grain bread
1/4 medium avocado
Dash of salt
Splash of vinegar
Fresh herbs if you want to get fancy
DIRECTIONS
Fill a small skillet with 1" water and heat over medium-high heat until the bottom is covered in bubbles but not yet boiling. Stir in a splash of white vinegar and reduce heat to medium-low. Crack egg into a small prep cup and gently slide egg into the water. Cook for 4 1/2 minutes, or until yolk is to your liking, and transfer to a paper towel.
While the egg poaches, toast bread, warming crispy prosciutto in toaster for the last minute or so, and mash avocado with salt.
Spread avocado onto toast, top with prosciutto and then the poached egg. Garnish with fresh herbs if desired.
This delicious post is part of a series sponsored by The American Egg Board and The Good Egg Project. Bon appetit!