It's that time of year when co-workers with exploding gardens bring bags full of surplus fruits and veggies into the office. What to do when you're gifted nearly nine pounds of beautiful, organic tomatoes with a fast-approaching expiration date though? I happily helped a friend out of this exact predicament and quite frankly, don't know if I'll ever make tomato sauce any other way again.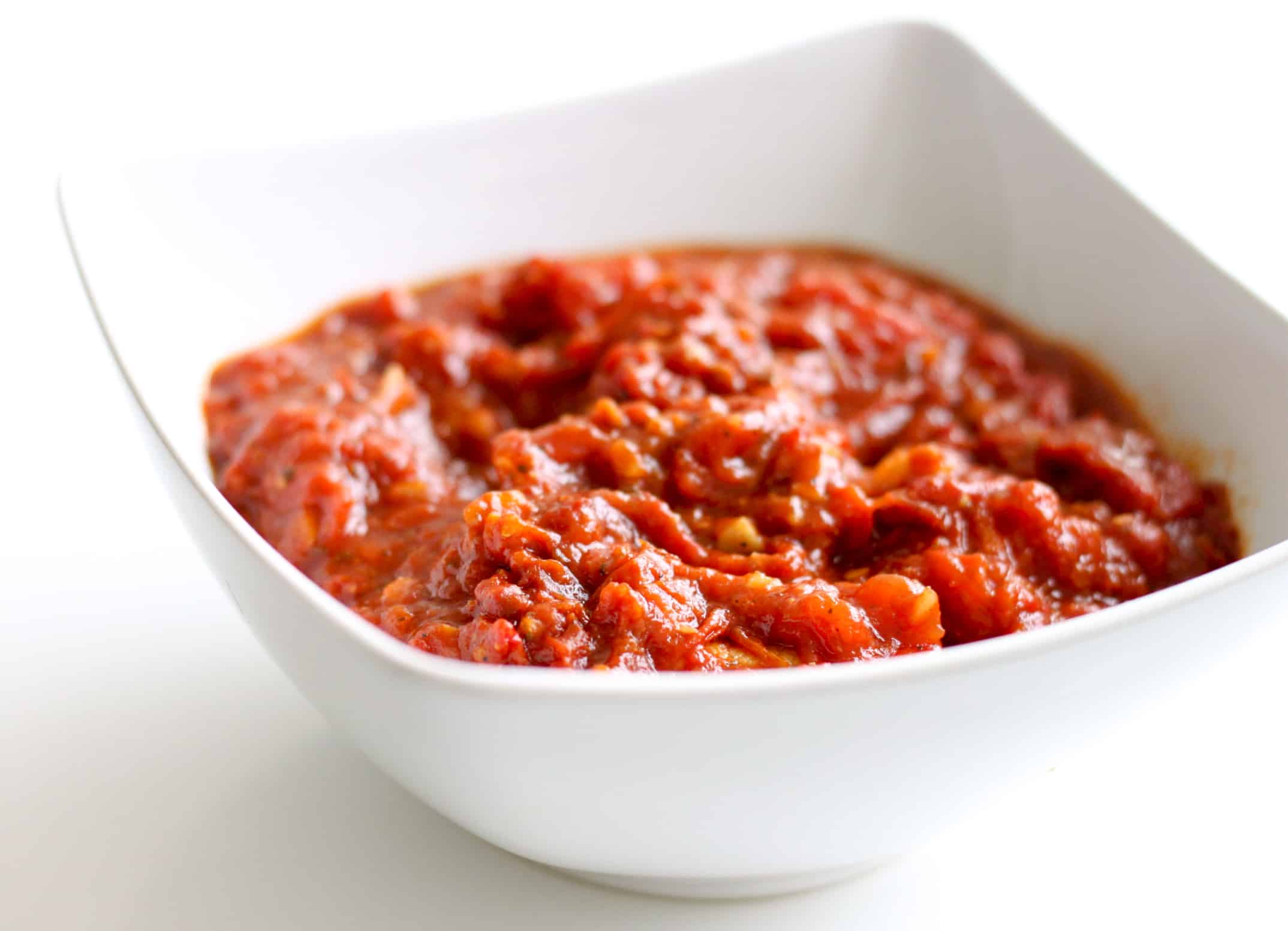 Roasting is one of my favorite ways to use up slightly wrinkled veggies because it both concentrates their flavor and camouflages any puckered skins in the process. When a pan of day-old tomatoes comes out of the oven after two glorious hours, you can't tell which wrinkles are from age and which are from roasting. One taste and it doesn't really matter anyway, though.
I started with this recipe and ran with it -using more tomatoes, adding a few shakes of red pepper flakes, a can of tomato paste and a pinch or two of sugar. One thing I didn't change though was the garlic. We skinned and chopped nearly one entire bulb of garlic per batch. That's bulb, not clove.
The only time I'd advise against making this sauce is if you have plans to lock lips later with someone who's not invited over for dinner.
Makes ~4-5 cups of thick sauce
INGREDIENTS
4-5 pounds fresh tomatoes | Tip: look for deals on overly-ripe ones
1 bulb of garlic (8-10 cloves), skinned and finely chopped
3 tablespoons olive oil
1 (6-ounce) can tomato paste
sugar, to taste (about 1-2 teaspoons)
salt & pepper, to taste
Recommended add-ins: 1/4 cup coarsely chopped sun-dried tomatoes, 3-4 shakes red pepper flakes, fresh basil and/or oregano
DIRECTIONS
Preheat oven to 300F. If you want slightly blackened skins, bump it up to 350F. Line 2, 9×13 baking pans with foil and lightly brush with olive oil. Chop garlic, mix with remaining oil and set aside while preparing tomatoes. Slice tomatoes 1/2-inch thick, leaving skins and flesh in tact. Lay them flat in the pan, ends skin-side-down, and sprinkle generously with salt, pepper and red pepper flakes if you like a little kick. Spoon oil and garlic mixture over the tomatoes and roast for 2-3 hours. Roasting time is flexible. After 2 hours though, I simply couldn't wait any longer.
Remove tomatoes from oven and warm a large skillet over medium-high heat. Add sun-dried tomatoes and fresh basil/oregano if desired and heat until just aromatic. Add tomatoes and tomato paste and stir until well combined. Slowly add sugar, one teaspoon at a time, until desired sweetness is reached. Finish off with additional salt and pepper if needed.
Serve with pasta (thin sauce with pasta water if desired), as a pizza sauce or serve over toasted, sliced baguette for roasted tomato bruschetta.
Squishy, wrinkled tomatoes: What's your favorite way to use them up?