This delicious post is sponsored by California Raisins through my collaboration with the Healthy Aperture Blogger Network. I was compensated for my time but my love for raisins is real. Enjoy!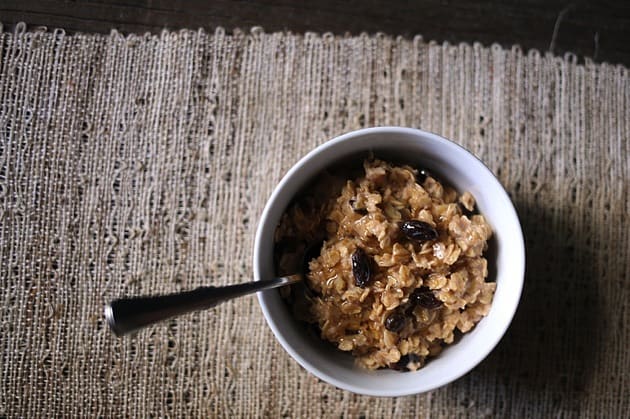 An all natural, dried-by-the-sun fruit, raisins were a sweet snack my mom and I both could agree on when I was a kid. For that reason, they frequently made their way into my school lunchbox as a kid.
Back then I preferred my raisins solo or stuck into a peanut butter-filled celery stick, but over the years I've discovered raisins are not just a healthy, on-the-go or after school snack. As an adult, I love the natural sweetness raisins add not just to oatmeal cookies, but to spicy chutneys and warm bowls of oatmeal in the morning too.
Especially on chilly, fall mornings like today.
To celebrate the official change of seasons (and because it's getting noticeably harder to drag myself out of bed in the morning) I created this delicious Raisin Spice Oatmeal Mix over the weekend. Because of this, I'm now able to max out my "snooze" time under the covers before my early morning workouts.
Inspired by sugar-laden instant oatmeal mixes that never really seem to satisfy, this homemade version is packed with old-fashioned oats, nuts, spices and raisins, my dried fruit of choice. Raisins are free of fat, cholesterol and added sugars, and as the most economical dried fruit, they're also a great value, making them the perfect, sweet addition to this all-natural oatmeal mix recipe.
A little bit of milk (or water) and a few minutes in the microwave is all it takes to whip up this filling, nutritious bowl of oats. I like mine on the chewier side with just a drizzle of honey but they're just as good creamy, too.
This recipe is a morning-maker for sure, but it also makes a pretty darn good afternoon snack. You know, on those days you decide to have a salad for lunch (always a good idea in theory…) or when the kids come home from school completely and utterly ravenous. Having this mix on hand could also be an afternoon-saver because one, if not both of those scenarios, are bound to happen to eventually.
Ingredients
6 cups (1, 18-ounce container) old-fashioned oats
1 1/2 cups California Raisins
1 1/2 cups nuts, chopped (I used walnuts)
2 tablespoons cinnamon
3/4 teaspoon nutmeg
1/2 teaspoon salt
Directions
Combine all ingredients in a large bowl and mix until well combined. Store mix in an air-tight container.
For the oatmeal:
For chewier oats, combine 1 cup mix with 3/4 cup milk or water and microwave for 4 minutes at 50% power. (Reducing the power should prevent it from bubbling over.) Add a little more liquid and cook a minute or so longer for creamier oats. If desired, top with a little honey, brown sugar or sweetener of choice.   
Oatmeal: Do you prefer yours creamy or on the chewier side too? Favorite add-ins?